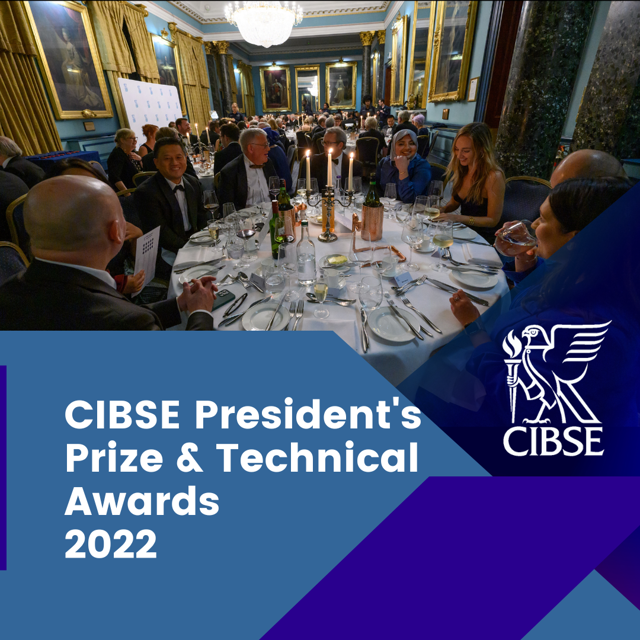 The 2022 President's Prize: CIBSE Graduate Award recognises excellent understanding, application and analysis of building services engineering, science, and design. It is awarded to a final-year student of a CIBSE-accredited building services course for academic achievements. It also acknowledges the winner's university, and the essential role played by quality academic education in building services.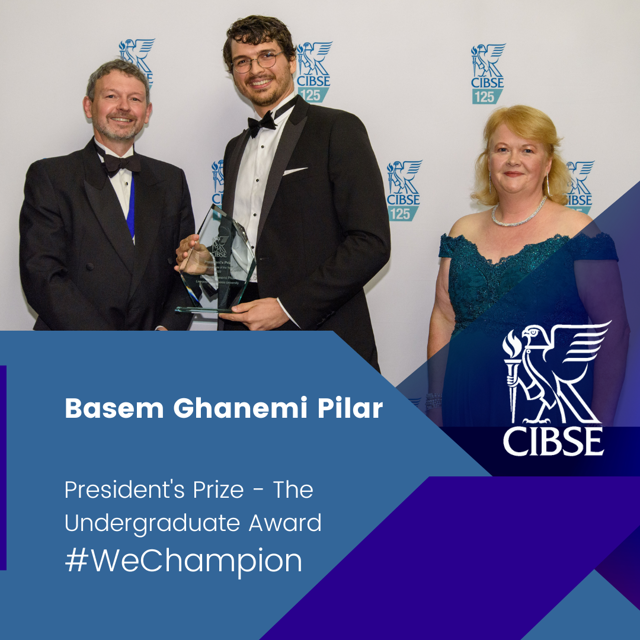 Left to right: Kevin Mitchell, CIBSE President; Basem Ghanemi Pilar; Ruth Carter, CIBSE CEO
Basem Ghanemi Pilar, from Liverpool John Moores University was awarded the CIBSE Undergraduate Award 2022. Basem, who is studying for an MEng in Architectural Engineering, won with his final-year project titled, Making the most out of heat pumps. His project looked at improving the heating systems of a Liverpool John Moores campus building completed in the late 1960s. The judges selected Ghanemi Pilar's project for its topical and relevant subject matter, its depth of research, and its benefit to our collective strive towards net zero carbon.
The runners up were Deepak Sadhwani and Weiting Dai.
Laurence Brady on behalf of John Moores University, was also presented a trophy in acknowledgment of its achievement.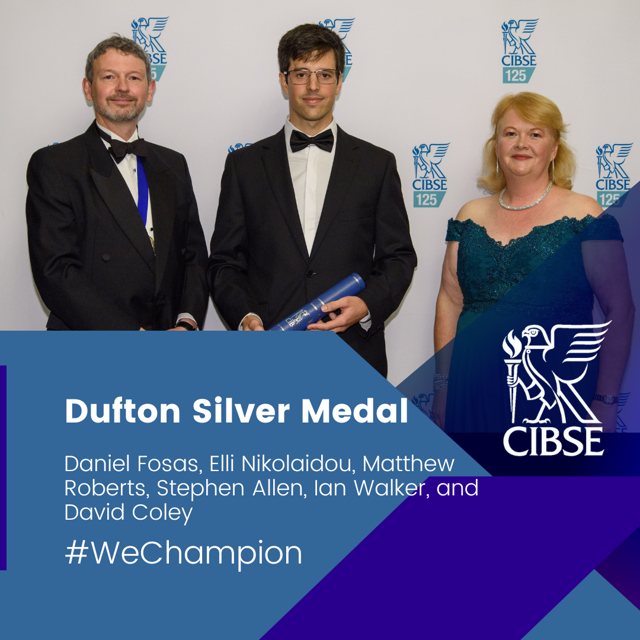 Left to right: Kevin Mitchell, CIBSE President; Daniel Fosas; Ruth Carter, CIBSE CEO
With performance in mind, the Dufton Silver Medal for research was awarded to Daniel Fosas, Elli Nikolaidou, Matthew Roberts, Stephen Allen, Ian Walker, and David Coley, entitled Towards active buildings: Rating grid-servicing buildings.
It describes a proposal for an Active Building Code which assesses how a building provides building-integrated generation and grid services and minimises energy use and embodied carbon. It is also a highly topical paper given the current energy supply situation.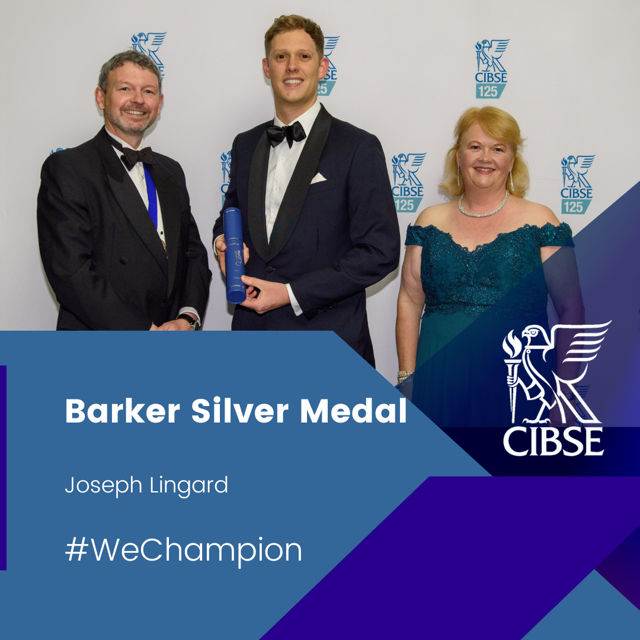 Left to right: Kevin Mitchell, CIBSE President, Joseph Lingard; Ruth Carter, CIBSE CEO
Joseph Lingard was awarded the Barker Silver Medal for application and development for his paper, Residential retrofit in the UK: The optimum retrofit measures necessary for effective heat pump use has also been recognised. This paper focuses on the high dependency on the electrification of heat and use of heat pump systems to achieve net zero emissions by 2050, as outlined by The Department for Business, Energy & Industrial Strategy and the Committee on Climate Change. This study describes dynamic simulation modelling to determine the optimum energy efficient retrofit required to minimise energy use and electrical demand for the installation of a heat pump an average semi-detached dwelling. 
The Carter Bronze Medal for application and development was awarded to the paper Evaluating the perception of thermal environment in naturally ventilated schools in a warm and humid climate in Nigeria by Yingchun Ji and Charles Munonye. Their paper looked at a naturally ventilated primary school in a warm, humid environment, in Nigeria, to determine the thermal comfort perception of young children and to understand the thermal conditions in the classrooms.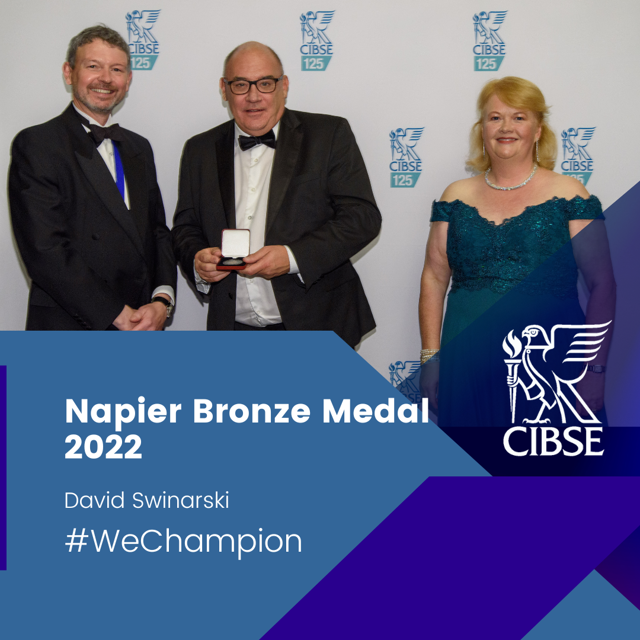 Left to right: Kevin Mitchell, CIBSE President; David Cooper (accepting on behalf of David Swinarski); Ruth Carter, CIBSE CEO
The Napier Shaw Bronze Medal for Research was awarded to David Swinarski, for his paper, Modelling elevator traffic with social distancing in a university classroom building. David developed a simulation tool to assess the impact of various interventions on traffic carrying capacity of lift groups during the COVID-19 pandemic, when occupancy of lifts was curtailed as a means to reduce transmission risks.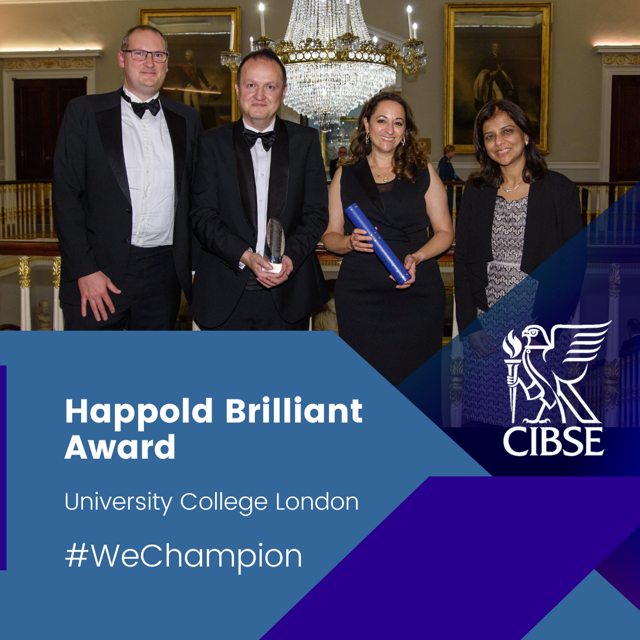 The Happold Brilliant l award was introduced by CIBSE to recognise excellence in the teaching of building services engineering. The award was the idea of the late Professor Sir Edmund "Ted" Happold and is sponsored by the Happold Trust. This year's award went to University College London. The award was presented to Dejan Mumovic on behalf of the University by Priti Parikh, representing the Happold Foundation.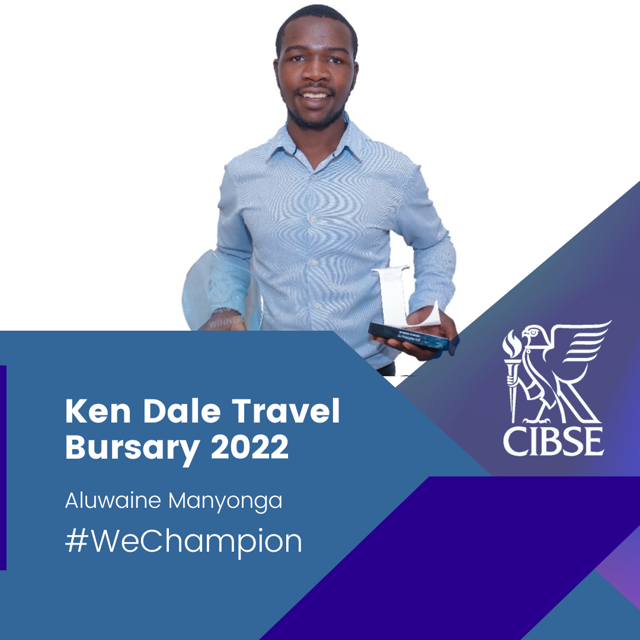 Aluwaine Manyonga was been awarded this year's CIBSE Ken Dale Travel Bursary for his project, Assessing the impact of using off grid solar powered DC LED lighting systems on improving reliability and access to lighting in Southern Africa's rural buildings (case study of schools and residential buildings).